A Basic Guide to Mens Jeans – Colours and Styles
Jeans have been around for over 100 years, and their popularity has not waned – in fact, it is constantly growing and jeans are one of the few fashion items that never go out of style and are loved by all ages and genders.
But if you have decided it is time to find yourself a new pair of jeans you may be daunted by the huge range of colours and styles available – here is a basic guide that will help you to choose the new pair of jeans that are right for you…
Skinny – Skinny fit jeans sit tightly around the legs and have a sprayed-on appearance. If you are tall and slim, these are a great choice for you. They are modern and stylish and can be worn in many ways to create different looks.
Taper Cut -These have a similar look to skinny jeans but are nit quite as tight around the legs which is great if you have larger leg muscles. There are lots of types of taper cut jeans around to choose from.
Straight Leg – These are the classic cut of jeans and the leg goes straight down from the hip. These are a flattering choice for men with larger waists or want a pair of jeans that aren't as tight, but they can swamp smaller slimmer men.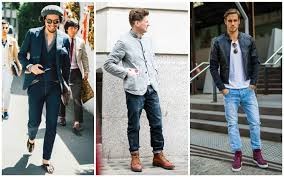 As well as styles, there is also colour to consider – darker jeans like these mens Bugatti jeans from EJ Menswear are great for winter and can be easily dressed up too. Lighter and stonewash jeans are a great casual look and are also a good pair of jeans to carry you into spring.