Decorating a high ceiling
When a home has lots of space but it's vertical, it can feel like that space is just wasted. However, high ceilings are wonderful for making a space feel luxurious and grand, although not decorating them properly can make the room feel unbalanced. Here are some unique ways to make the most out of high ceilings:
Go high with window dressings
A lot of people struggle with this concept, but one effective way to decorate a high ceiling is to hang curtains or other window dressing right from the ceiling height. Hanging them in the usual position will create a gap between the window and the ceiling that will feel cold and isolated. It will require more of an investment in fabric but creates a fantastically dramatic look. Solid shades work best as a pattern can be a bit overpowering at this height.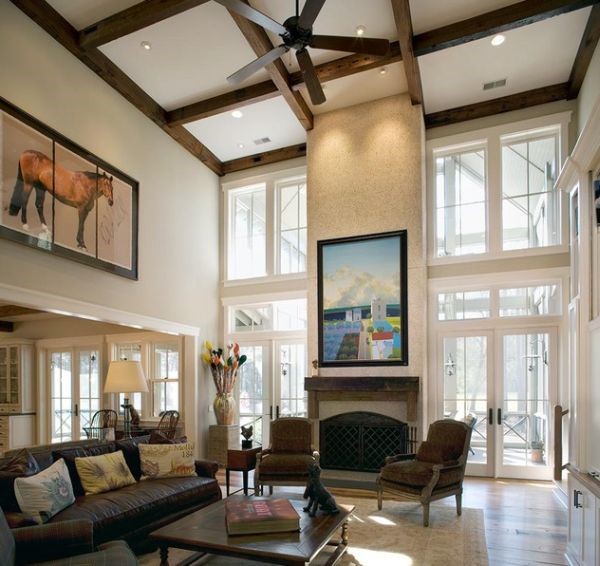 Go high with art
The same method can be applied to hanging artwork too. The empty space of a high ceiling is the perfect place for displaying your favourite art and decorative items to get rid of that cold, unused space. It also has the effect of drawing the eye upwards.
Statement lights
Decorating a high ceiling correctly means joining the bottom and top of a room together in a balanced harmony. The wide-open space of a high ceiling is the ideal spot for hanging a large statement light fixture to really make an impression. Going large doesn't mean it has to be overbearing and heavy – perhaps a crystal chandelier would make an elegant addition over a coffee table, for example. Don't forget that Ceiling Roses complete the look when installing a centrepiece light fixture. Ceiling roses available here
Shelving
Getting creative with shelving is also much easier when you have a high ceiling to play with. Tall bookshelves are one option, or a feature wall dedicated to shelving is another popular idea. Floating shelves can be installed at varying heights to create a staggered effect. You'll need a ladder to pull off this task but the result will be an interesting space that draws the eye instead of an empty cold space.
Feature wall
Turning a wall into a space with interesting features is a great way to marry up the two halves of a room with a high ceiling. There are lots of options, such as painting, tiling above a fireplace, exposing original bricks, hanging artwork or a bold wallpaper are just a few ideas that are popular. Be sure to get professional help for any decorating work done at height.