Keeping hardwood floors warm in the winter
Wooden floors are a great choice for many reasons, including how wonderful they look, how easy they are to keep clean, and how they are a boon for people with pets or allergies. However, some may be wondering about the cosiness factor in winter, and there are a number of ways your beautiful wood floors look and feel good during the colder months.
Soft furnishings
Rugs can make a huge difference. They can provide heat and warmth, be a lovely texture, and also look very stylish against the wood. Rugs in strategic places can achieve all the cosiness of carpet, while retaining the virtues of wood.
Another tactic is to change your curtains to a more weighty fabric that will prevent heat loss and keep the room warmer, though the curtains may need to be closed for the full effect. Curtains can now be used as insulation too, especially where windows are the antique sash type and double glazing is not suitable. For more on this, take a look at this article from The Telegraph.
Maintaining temperature

If the room is warm, the floor will be too. Check doors, windows and seals to make sure there are no drafts or gaps that let heat out and chilly air in. Then seal those gaps and get draft excluders where necessary.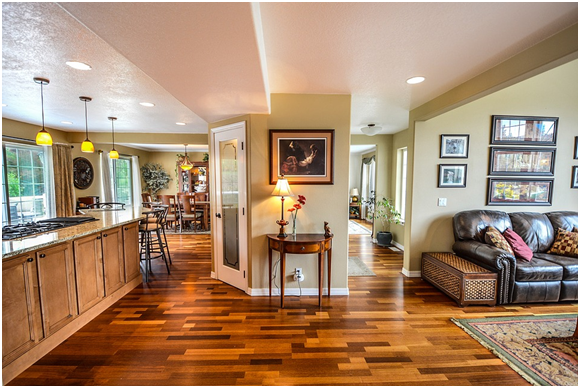 With a house that may have multiple entry points, select one that has the least impact on the temperature inside, or that can be managed in such a way that it has minimal impact on your living areas. Closing an internal door, or a heavy velvet drape can assist here. When people come in with wet or muddy feet, you will definitely appreciate how easy it is to clean a wooden floor. If you are interested in the possibilities of engineered flooring, it would be a good idea to consult professionals in the field such as www.woodfloorwarehouse.co.uk. Experts like these can provide advice and guidance and tell you more about the options available for engineered flooring.
Wooden floors are the best choice for so many reasons. As we wear more clothes when it gets colder, so too wooden floors may be even better with some extra layers to make them more cosy. Plus saving energy by keeping heat in makes a lot of sense too.