Vegan restaurants to discover in Birmingham
The vegan diet is becoming more and more popular. For some, the choice to eat vegan comes along with concerns for animal welfare. The food industry does not always have the best interest of the animals at heart – take, for example, battery hens.
For others, the choice to move to a plant-based diet is more about the environmental impact. Statistics show that vegan diets use less land, and less water than the traditional western diet.
Whether you're a vegan now, or you'd just like to eat that way for an evening, there are some wonderful restaurants in and around our Birmingham Serviced Apartments to enjoy. Venues like:
The Stables – John Bright Street
This pizza chain offers regular pizzas, but it has an extensive range of vegan and also gluten-free pizzas. With toppings including potato, red peppers, onions and vegan mozzarella, they're a treat for the eye as well as the belly.

Not Dog – Link Street
If you fancy burgers, hot dogs and delicious shakes, then this is the venue for you. Visit their website to see images of their vegan dogs topped with hummus, chilli or tikka masala. They even offer a take-out service, which you can carry back to your Birmingham Serviced Apartments.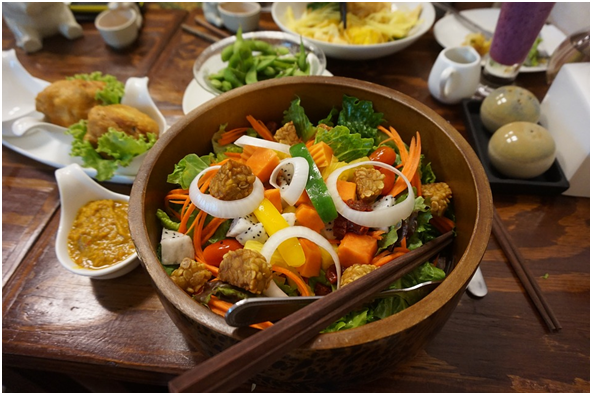 Natural Healthy Foods – Suffolk Street
This eatery started life as a health food store, but now it just serves amazing vegan goodies. Brunch is a speciality, where you'll see all your plant-based favourites like smashed avocado and tofu scramble, alongside alternatives such as mushroom rarebit.
Warehouse Café – Alison Street
This is an entirely plant-based café that also caters to those who need to avoid gluten. Offering hearty soups made from squash, and a brilliant desert menu, you should book in advance to enjoy this café, as it's very popular.
Mowgli Street Food – Grand Central
This Indian street food venue is a new addition to Birmingham. Whilst not strictly vegan, it does offer a wide range of plant-based options. The menu is visually stunning, with vibrant, fresh food a speciality.
As you can see, a visit to Birmingham offers plenty of opportunities to enjoy vegan food whether it's a quick snack or a full meal. If animal welfare or the environment is a cause for concern for you, enjoy your dinner with no guilt!