What we were watching in 2017
We have a lot to be thankful for TV Aerial Installation Swansea companies like https://www.onevisionltd.co.uk/tv-aerial-installation-swansea because without them we wouldn't be able to watch some of our favourite television programs and as a nation of TV lovers that would be a disaster. But what were the top television shows being watched in households throughout the country in 2017?
Here are some of the top shows with their highest episode viewing figures.
Blue Planet II received an incredible 14.01 million viewers for its most watched episode. David Attenborough regularly pulls in extremely high numbers of viewers for all of his shows as people watch his team creating some amazing shots of animals that we wouldn't normally have the privilege of being able to see.
I'm a Celebrity Get Me Out of Here came in next with 12.69 million viewers. It seems that more and more of us are keen to tune in and watch celebrities being tormented with tasks involving every type of bug and creepy crawlies in order for them to receive stars for a meal of more than the standard rice and beans.
Strictly is just slightly behind with 12.28 million viewers. We are moving closer to the time of year when this dance competition/entertainment show will grace our screens. Again, we watch a number of celebrities attempting to master the steps of Ballroom and Latin dances and trying desperately not to step on the toes of their professional dance partner.
One Love Manchester quite rightly had 11.63 million viewers. An impromptu concert held by Arian Grande and numerous other artists to raise money and in memory of those people who lost their lives in the Manchester Arena attack earlier in the year. The concert was filled with emotion and beautiful sentiments from the artists who gave their support.
Broadchurch is a popular series with 11.61 million. This crime drama has become incredibly popular and there have been three series in total having aired from 2013. Series one focused on the impact the death of a young boy had on the town in terms of suspicion and media attention, series two looked at the trial of the murderer and the reopening of another case and series three is following the story of a serious sexual assault.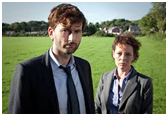 That's the top five slots and below are the next five in brief details rounding off the top 10 most watched television programs in 2017
Britain's Got Talent comes next with 11.51 million viewers
Sherlock with 11.33 million viewers
Call the Midwife is still drawing in the viewers with 10.63 million people watching an episode
New Year's Fireworks attracts 10.40 million viewers for the short once a year display
The Moorside comes in tenth place with 10.23 million viewers