KitchenAid KPRA Pasta Roller Attachment for Stand Mixers
Freshly made pasta is still the best compared to those commercially available boxed pasta that you can buy at the supermarket. But the hassles of using manual pasta machine have somehow made modern homemakers opt to buy the commercial pasta rather than waste their precious time in cracking dough manually. With the KitchenAid KPRA Pasta Roller Attachment for Stand Mixers though, making homemade fresh pasta has never been easier and any homemaker cum career woman will find it a very functional kitchen tool.
If you have passion for perfectly made pasta, you can try to make your own delicious lasagna noodles, spaghetti, fettuccine, or linguine fine with the Kitchenaid KPRA pasta roller attachment set that will fit in all KitchenAid stand mixers. It has three attachments that include a pasta roller, a fettuccine cutter, and a linguine fine cutter. It is easy to use, just prepare the pasta dough, shape it into small rectangles and then feed them into one of the attachments. You will then have uniform sizes lasagna noodles, fettuccine, linguine, or angel hair pasta. The pasta can be cooked right away and enjoyed fresh or it can be frozen or dried for later use. For complete directions, cooking tips, you can always consult the manual included.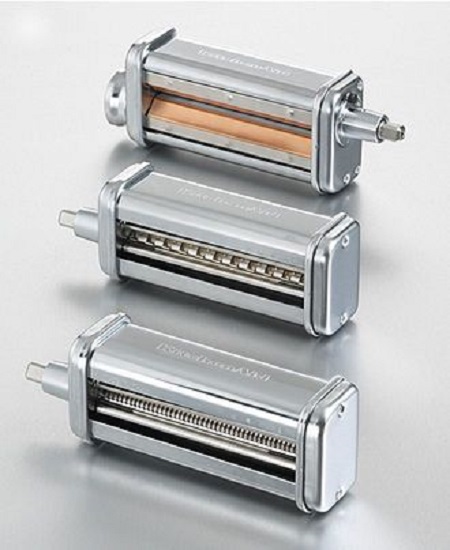 The KitchenAid KPRA is a very functional tool; though cleaning the attachments might be a little tricky. Once removed, they shouldn't be washed in water, rather any pasta residue can be easily removed by using the cleaning brush that comes with the package and also with the help of a toothpick.
Product Specifications and Features:
Product Dimensions: 7.6 x 4 x 10 inches
Product Weight: 8 pounds
Shipping Weight: 8 pounds
With one-year warranty
Made in Italy
Three piece stainless steel set (pasta roller, fettuccine cutter and Linguini fine cutter)
Package includes wooded cleaning brush, direction manual and recipe booklet
Buy this KitchenAid KPRA Pasta Roller set for freshly made pasta that will allow your family to enjoy the best of the homemade recipes usually served in gourmet restaurants. To make your pasta more delicious, you can add herbs and seasoning to the dough so that your pasta will come out flavored and delectable even without your favorite sauce.
Create your own pasta dishes from scratch and surprise your family with delicious meals that you have made within a few minutes with this amazing pasta maker.
If you are a pasta lover, you can also try for kitchenaid pasta maker.