Top Tips for building the house of your dreams.
We have all heard that we are in a mild housing crisis here in the UK with a lack of affordable homes available for those people looked to embark on the journey as a home owner. More and more people are looking to self-build properties as a way to achieve their dream homes. Timber frame construction company http://www.qtfhomes.co.uk/ can help with our self-build construction material requirements. It is definitely worth taking a look at what they have to offer. Here are a few tips to help you on your way: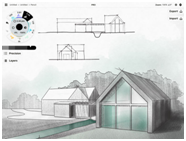 You can make a silk purse out of a sow's ear – one of the main stumbling blocks people come across when looking to build their own property is searching for the perfect plot. There is no such thing. Many people miss out on potential land opportunities because they can not see past the current state of the land. It is important when looking at location plots that you try and visualise your desired build on the land and what it will look like once the property has been constructed and you have landscaped the garden area.
Tighten your purse strings – it is important that you set a realistic budget for the whole housing project and best practice says to take ten percent of this as a contingency. You therefore have your final budget amount. The more detailed your budget is the easier it will be for you to stick to it. If you find that you go over budget in one area of the build, then you will need to cut back elsewhere.
Plan for the long term – make sure that you factor into your plans how long you intend to stay in this property along with what its main purpose will be. There is no point in building a small starter home if you plan on living in the property long term and one of your aims after moving in is to start a family. Equally don't build a huge property if it is intended to be a small retirement holding.
Don't jump into designing – planning out the design of your property both from an interior and exterior point of view is one of the most exciting and creative parts of the project. However, don't be too eager to jump right in. It is important that you have selected your chosen plot before you start the building design otherwise you will fall into the trap of then trying to find land that fits your housing design.
Good luck with your housing project and try to enjoy as much of it as you can.