8 perfect watches of all prices for gift!
The watch is one of the most desired accessories. Therefore, we have compiled 8 perfect watches for all budgets. The best idea to get your gift right!
Who does not think of a watch when it needs to make a gift? Women's watches are the perfect solution for any birthday, anniversary, graduation … whenever! But how to choose the right one? Just keep your budget in mind because we take care of the rest! We have selected perfect watches from less than 50 dollars to others that exceed 200. We tell you that they are our favorite of different prices and the best deals we have found on the net! Take advantage of!
1) A Casio maple in stainless with a retro flavor
This watch is a good product for those looking for a quality watch, classic and affordable. It offers an excellent quality-price ratio, and above all it is an accessory that combines everything. As we said … classic!
PROS:
It has a vintage style, according to the trends of the moment and, in short, never goes out of style.
Therefore, it is a low budget supplement, it is perfect to wear it on any occasion.
CONS:
Those who know the Casio brand, also know what their price range is.
The retro style sometimes does not conquer in lovers of the modern.
2) A Mark Maddox watch with a silver strap!
This Mark Maddox has a super elegant aesthetic, thanks to the silver tones that surround and the navy blue dial. Also, you can sign in to Amazon for 49 dollars!
PROS:
It is a super nice, feminine and elegant product. And durable
It comes with a super elegant metallic box, so your gift is even more beautiful!
CONS:
If you are looking for a high-end watch, we recommend that you opt for other brands. Therefore, you should know that the value for money is great.
To keep navy blue, it cannot be combined with all looks.
3) A Cluse, the influencers clock
The Cluse is one of the most popular Instagram watches, it is present in the wrists of all types of influencers. Elegant, however, also with that informal and youthful touch, this watch is a perfect gift for someone with a lot of vitality and lover of current trends.
PROS:
Is one of the most desired and popular wishes of 2018, what is it to wait to get one?
Is a very versatile accessory, so it is suitable for the most elegant looks but also for the most casual. In addition, now you have a 16% discount on Amazon.
CONS:
In being black it can be very dark. But, now that we are starting the autumn-winter season, it is ideal.
4) An embellished fossil clock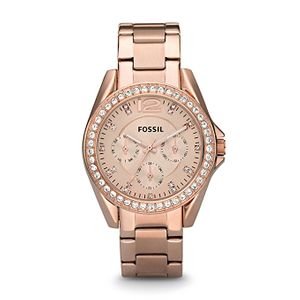 The gold, adorned with a strap and dial with rhinestones of rhinestones, Belongs to a higher price range but we have found it with a 20% discount, so it fits your budget perfectly. We love!
PROS:
Therefore, it is full of rhinestones, the watch is excessively striking.
Its affordable price gives extra value to the add-on.
CONS:
It is not suitable for people who wear a classic or simple style.
The diamonds are imitation, and that is something that everyone does not like.
5) A romantic and dynamic Michael Kors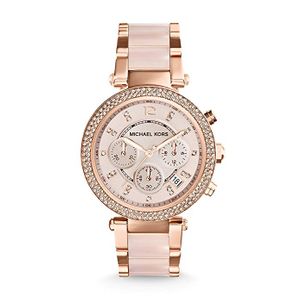 It is a very feminine watch: in rose gold, with the bezel of the dial adorned with brilliant crystals. A perfect gift. Without a doubt, one of our favorites!
PROS:
Keep your own light, it will give an elegant touch to your looks!
It is a woman's watch that stays in time. It will never go out of fashion!
CONS:
It represents an important investment and is not suitable for all budgets.
It has rhinestones that you may not like at all.
6) A minimum clock Daniel Wellington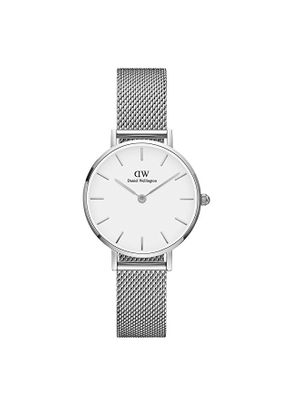 An elegant and easy to match with all kinds of garments. This watch is the perfect gift for women with a decisive character, but also spontaneous. You can find it on Amazon for 101 dollars!
PROS:
It is a really elegant and minimalist watch.
It is very modern and always fashionable.
CONS:
It admits that it is not the most original model in the world, however, he maintains the advantage of combining with everything.
If I stop the Cluse a lot, if you do not know them well you can confuse them.
7) Michael Kors in maple with a strong soul
This Michael Kors watch is a real gem: it is bright and has all the characteristics of a good watch. Perfect gives an important gift, since the price is not among the lowest.
PROS:
A guaranteed gift option, both for choosing the brand as the product itself.
If it can be combined with a classic work outfit, it can also be combined with a touch of strength and an elegant look.
CONS:
It has a slightly masculine appearance, which can be appreciated by those who love the most delicate forms
8) An elegant smart watch by Michael Kors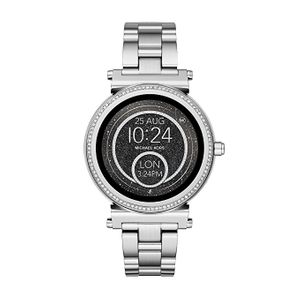 This smart watch speaks for itself: we see the shape of a steel watch but, in reality, it is a watch with intelligent technology. It is elegant, refined, but also fashionable and bright. Perfect for a gift for fans of new technologies! The coast is high, but in Amazon you can find it now with a discount: from 369 dollars to 266 dollars. Offer!
PROS:
It looks like a simple watch but it is actually a real smart watch.
It is versatile: it embellishes casual looks and enriches elegant ones.
CONS:
Without discount we must admit that we can go budget. That's why we have to take advantage of this offer!