Why move to Manchester?
Manchester is a vibrant city with a compelling heritage, a thriving arts and cultural scene and great transport links. In recent years, it has attracted significant investment so there are even more reasons for making the move to Manchester and the quality of life it offers is unparalleled.
Officially Europe's top city for business in 2020 and 2021, Manchester is buzzing with work opportunities and could be just the place to be if you are ambitious and want to make your mark in a variety of fields. But perhaps you are looking for leisure facilities too, in which case you are in luck. Manchester offers so much to do and see: https://www.theguardian.com/travel/2022/nov/16/manchester-selected-as-top-travel-destination-for-2023-by-lonely-planet). Lonely Planet was particularly taken with the amazing array of places to eat in Manchester, together with the city's diverse arts scene.
Quality of life
At a practical level, Manchester has a lot to offer too, including being one of the UK's most affordable cities, which is so important right now as the cost of living continues to escalate. The cost of securing a place to live is much lower in Manchester. A house in London will cost about four times what you will pay in Manchester, even though London salaries are not four times what you will be paid in Manchester. The lower cost of housing means that you will have more disposable income to spend on things you enjoy and you can experience a better quality of life. There's less pressure in Manchester and the people tend to be friendlier too.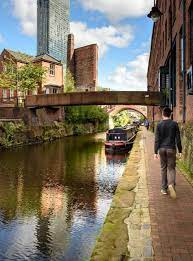 Manchester is also a great town for learning, being one of the top European university centres. Manchester has an incredible 80,000 students, busily expanding their knowledge and in some cases collecting Nobel Prizes at some of the world's leading institutions, including Salford University, the University of Manchester and Manchester Metropolitan University.
Access to nature
Many people live in cities but need access to nature and the countryside and this is a balance you can easily achieve in Manchester. Beautiful areas such as the Peak District, the landscapes of Cheshire and the Lake district are all within easy reach. In addition, there are tempting National Trust properties to discover and plenty of parks and green spaces.
Manchester also has its own airport and rail links, so if you need to travel, everything you need is on your doorstep. Leeds Bradford International Airport and Liverpool John Lennon Airport are not far away either to help you get where you need to go. And let's not forget retail opportunities and Manchester's rich sporting history either.
Manchester is truly appealing and you may be all geared up for the move to Manchester but may, for example, have to arrange a severance of joint tenancy in the case of separation and property sale. Thankfully, there are a range of firms that can assist in a wide range of matters including severance of joint tenancy.
With diverse heritage, high quality of life and activities to appeal to just about everyone, it's a surprise that everyone isn't flocking to Manchester. Whatever you are looking for in a city, Manchester is sure to offer it, at a reasonable price!