What cosmetic dentistry treatments are available?
Have you ever wondered what "cosmetic dentistry" is? It isn't actually a separate field of dentistry but is a name given to a large number of dental procedures that are designed to give you a better smile. Modern dentistry is all cosmetic dentistry in a way as almost all procedures are mindful of how they impact a person's appearance. Here are a few of the cosmetic dentistry options on offer:
#1 – Teeth Whitening
Many of us would like to have whiter, brighter teeth. For many people, it can leave them feeling self-conscious and afraid to smile. Teeth whitening is one option to help you achieve a brighter set of pearly whites. Your dentist will assess the condition of your teeth before selecting an appropriate treatment for you. They will investigate the source of the staining and provide you with advice and guidance on avoiding it in future. For more information on Cosmetic Dentistry Cardiff, visit https://www.cathedraldentalclinic.com/cosmetic-dentistry-cardiff/
#2 – Dental Veneers
If your teeth are in good general condition, but you dislike the way they look, dental veneers can give you a whole new confident smile. Dental veneers are thin layers joined to another surface, in this case, casings that fit onto the outer layer of your teeth. Some veneers can be made by the dentist using composite resin shaped out to fit the tooth, but porcelain mouldings will need to be sent off to a dental lab and fitted at a further appointment.
#3 – Crowns
Crowns or caps fully cover the tooth with a cement-type substance to prevent them coming off.  They are most often used on damaged teeth or teeth that have had root canal work performed on them. They can also be used in a cosmetic sense to cover poorly aligned teeth or teeth that are badly discoloured. They are long-lasting and commonly made form gold, porcelain or ceramic. They are made to match your teeth perfectly or you can opt to have them made whiter for a brighter smile.
#5 – Bridges
When you're missing one or more teeth, a bridge can help to fill any gap that's left behind. To span the space between the missing teeth, bridges are fixed to the two teeth either side of the gap, and then a false tooth is attached to the bridge, replacing the missing tooth.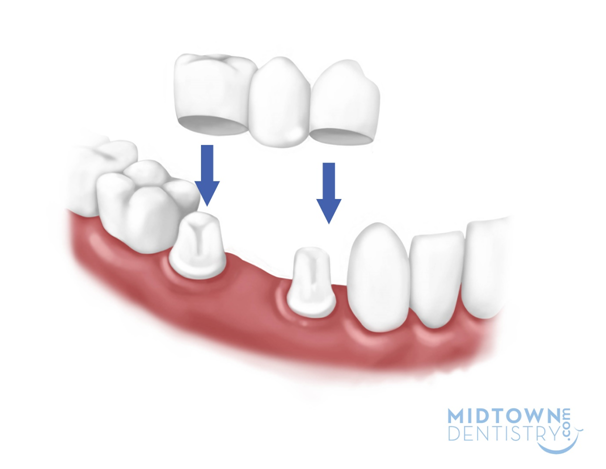 #5 – Dental Implants
An implant is literally an artificial tooth made as a permanent replacement for a missing one. They are attached surgically by a fixture or screw that must be implanted into the jawbone. The artificial tooth is then screwed into place or cemented to the jaw fixture. Whilst it sounds invasive and a little unpleasant, the advantage of having an implant is that is doesn't require any other teeth to be adjusted around it.
The options for cosmetic dentistry have improved hugely and are ever-evolving. Be sure to speak to your dentist about any concerns over the health and appearance of your teeth especially if you have done any adult orthodontic treatment prior to this procedure.