Coconut oil for hair: all uses for top hair!
Rich in properties and benefits, coconut oil is a real cure for hair health and beauty: here are all its most effective beauty uses! Coconut oil, obtained by squeezing the dried flesh of the coconut. It has unique properties that make it ideal not only for use in the kitchen but also for our personal beauty.
In addition to representing a fundamental ingredient in face and body skin treatments. Cocos nucifera oil – this is its scientific name – also acts as an excellent natural remedy for hair care: rich in saturated fats – such as acid lauric and caprylic acid – antioxidants and vitamins, especially Vitamin E, it is particularly useful for strengthening hair, nourishing and moisturizing it, helping to make it softer and shiny.
Before proceeding further, here are some useful tips to take in our beauty routine to always show off strong and healthy hair.
The various types of coconut oil: which to choose?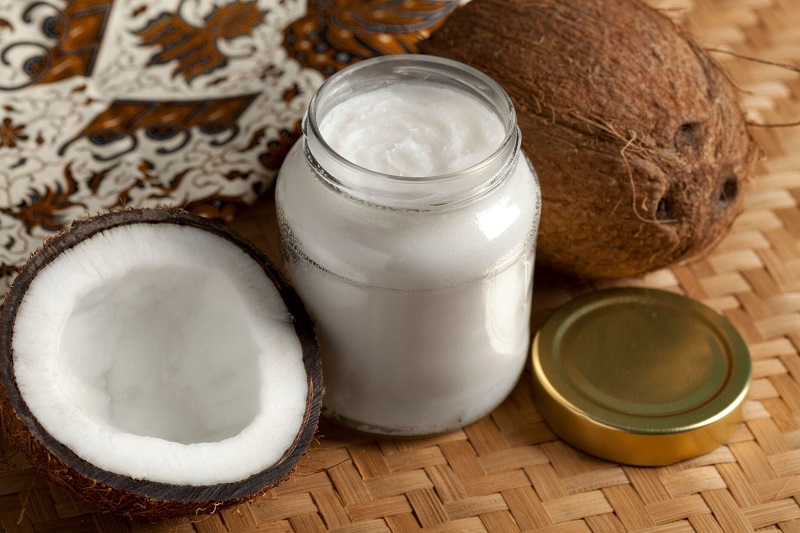 Coconut oil is commercially available in various forms: cold-pressed, pure, organic, virgin and extra virgin, refined and unrefined.
In addition, it can be found in blends, oils and hair products, such as shampoos, conditioners, masks, soothing sprays. And other preparations for styling and brushing. There is no doubt, however, that its best use is guaranteed by organic unrefined pure coconut oil. Because as it is not treated, it maintains all its virtues intact.
It is also useful to know that by solidifying around 15 ° -20 ° C, in the winter or particularly cold period. It must be heated so that it can be used simply and effectively as a compressor hair mask.
The main benefits of coconut oil on hair
As previously mentioned, coconut oil lends itself to a rich and varied use in the beauty field. Thanks to the above all to its nourishing and emollient properties that make it highly appreciated. And indispensable ingredient in many formulas and solutions of proven effectiveness. As already mentioned, it is a natural remedy particularly useful in the care of the skin of the face and body. Because it can guarantee hydration, nourishment and a velvety and luminous appearance. It is in fact often present in skincare or body products: from various types of creams to masks, scrubs, and exfoliators to beauty oils. All products ideal for soothing, moisturizing and nourishing the skin in a dignified manner.
But now let's see specifically what are the main benefits that this product of a thousand virtues is able to bring to our hair:
-moisturizes and nourishes
-detangles the hair and gives it softness
-it makes them bright
-prevents the appearance of split ends
-soothes the sensitive, irritated or flaking scalp, helping to restore the correct hydrolipidic film.
How to use it? All the most effective beauty uses
After seeing the extraordinary virtues it enjoys and the main advantages it can give our hair. Here are all the beauty uses in which it can be used easily and with great effectiveness.
1.Ideal pre-shampoo wrap for dry hair
One of its most popular uses in the field of hair care is as a pre-shampoo wrap. Especially for those who sport fine, brittle and dry hair. Often it is also proposed in combination with linseed oil. Another valuable and widely used natural ingredient. For this specific use. It would be best to opt for pure organic coconut oil. Just apply it all over the hair, from the scalp to the lengths, and let it act for about half an hour.
In the event that your hair is particularly dry or damaged, you can also keep it on for 2 hours or overnight. However, avoid exceeding eight hours, otherwise, your skin will become excessively oily and will struggle to remove it completely. At this point, you can proceed with the shampoo: choose a delicate but effective product and be sure to wash the skin well to remove any oil residue.
2. The most suitable use for oily hair
However, the treatment just described is not recommended for those with oily hair, because it would weigh down an already particularly impure skin: in these cases, in fact, it should be used as a simple conditioner and applied only on the tips and lengths after shampooing.
It will, therefore, act as an emollient oil with a restructuring and moisturizing power especially indicated to restore and soften the lengths, making them silky and bright.
3. Hair restructuring masks
This ingredient is also suitable as a base for restructuring and moisturizing masks suitable for any type of hair , especially for brittle, weakened and damaged ones.
Here are two particularly effective and easy to make.
-Mask with coconut oil, honey, and yogurt
-Combined with honey and yogurt, both ingredients with soothing and emollient properties, it gives rise to a highly effective restructuring mask.
-Take care to choose it in the purest, virgin or extra virgin version, so as to be sure that it maintains all its main properties intact.
-The recipe calls for 3 tablespoons of coconut oil, 2 of honey and one of yogurt. To make the mixture softer and facilitate its application on the crown.
-In case of oily hair, also add a teaspoon of apple cider vinegar, with an astringent and detox power, in order not to weigh everything down and reduce the oily effect.
Mask with coconut oil, honey, egg and lemon
Another recommended recipe is the one that sees the mix of coconut oil, honey, egg yolk and a few drops of lemon juice: the combination of these virtuous ingredients. In addition, to soften the hair and hydrate it adequately, they also emphasize its natural brightness.
4. Anti-frizz treatment
This oil also has the great benefit of reducing frizz. Thanks to its ability to significantly reduce the porosity of the hair. Indeed, this is the main culprit for frizzy hair.
To make it effective, just apply 4-5 drops on damp hair; do it just before you finish drying completely with the hairdryer: start from the middle of the neck. And go down to the tips, without going up to the root, then, untangle the affected area with a wide-toothed comb and finish drying. In this way, the oil will create a natural barrier against moisture, preventing hair from becoming frizzy.
5. Hair straightening product
It can also be used as a straightener: at the end of the crease, then to completely dry hair, apply a small amount on the entire length, avoiding reaching the root. By doing this, you will get a more defined styling and easily keep the unpleasant swollen effect that is often created due to excessive humidity.
6.Polishing treatment
In this case, act before proceeding with the crease: then apply it only on the slightly moist tips and lengths and then start with the drying by a hairdryer. Taking care not to keep it too attached to the hair or to use it at too strong an intensity. In this way, you will give your hair a healthier and shinier appearance.
7. Treatment against hair loss
Being rich in essential amino acids, vitamin E – particularly useful for promoting hair regrowth, lauric and caprylic acid. Coconut oil is also an excellent natural remedy for hair loss.
You can make a compress, combining it with sage leaves.
Boil the latter in a little coconut oil, let it cool slightly and apply it on the scalp. You can also store the mixture in a jar and use it as a mask once or twice a month.
Another effective natural anti-fall method is coconut oil and juice mask lemon. A rich mix of benefits that promotes the microcirculation of the scalp. Facilitating the flow of blood to the capillary bulb and effectively counteracting its fall. This compound is also particularly suitable for those with oily skin. Thanks to the extraordinary detox and astringent properties of lemon.
You May Like Also-https://interestweb.co.uk/